15 years ERDIL: our birthday event
15 years ERDIL birthday event, release of Esatis v4 and opening of our new premises
Location
ERDIL's premises in Besançon
On 16 and 17 June 2022, we had the pleasure of organising an event to celebrate ERDIL's 15th birthday, the new premises and the release of Esatis v4. Following in the tradition set by our 5 years and 10 years birthday celebrations in 2012 and 2017, the event brought together collaborators, clients, partners, elected representatives and local supporters.
Thursday: A day of discoveries
ERDIL's 18th User Group unveiling Esatis v4
Celebrations started with the most studious part of these two days: our 18th User Group. There was a preview of Esatis v4 for all the clients who came to Besançon for the event (from Rennes, Paris, Lyon, Brussels…).
Among the features of this new version:
menus and query configurations have been rearranged to leave more space for the different graphic visualisations, tables and verbatim.
monitoring of indicators with a simple and user-friendly dashboard, customised by the user.
A treasure hunt in Besançon
In partnership with Innov'events agency, which coordinated the logistics of our event, we chose to organise a « treasure hunt » in Besançon's city centre. It was the opportunity for our clients – especially those visiting the city for the first time – to discover Besançon.
For the treasure hunt, six teams were formed with ERDIL's collaborators and clients. There were clues scattered around the city centre for the teams to find, and riddles to be solved. For each correct answer the team uncovered new clues to be able to open the tresaure chest.
The coveted treasure was a sample of local products. The winning team, showing their good sportsmanship, decided to share their spoils with all the other customers who could each travel home with a culinary souvenir from Besançon.

A taste of Besançon's warmth
The day ended in a local restaurant, Café Café, with a delicious meal and a very warm atmosphere! The sun was shining all day and the temperature remained high, even in the late evening!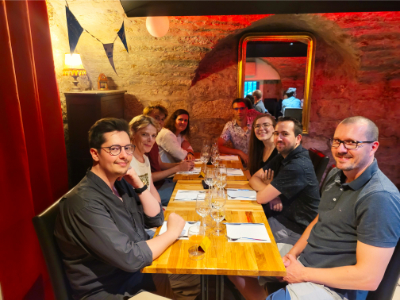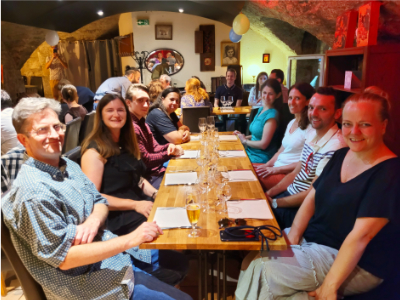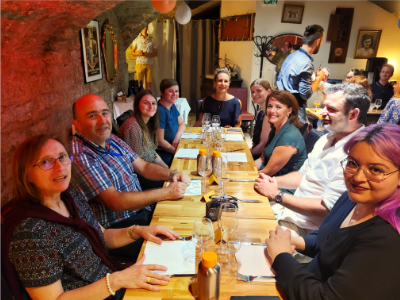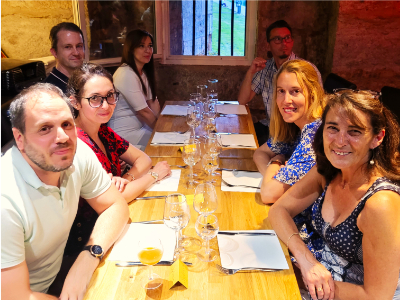 Friday: 15th birthday party with all ERDIL's stakeholders
A look back at ERDIL's evolution over 15 years
To kick things off on Friday 17 June, we were honoured by the presence of Anne Vignot, President of Grand Besançon Métropole and Mayor of Besançon, who was kind enough to attend the retrospective on ERDIL's evolution and speak a few words.
Séverine and Guillaume then went on to highlight the key points in the evolution of ERDIL: collaborators, clients, CSR commitments, a change of premises and the presentation of Esatis' latest version.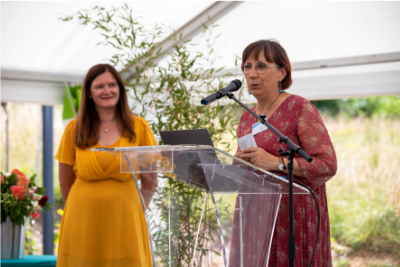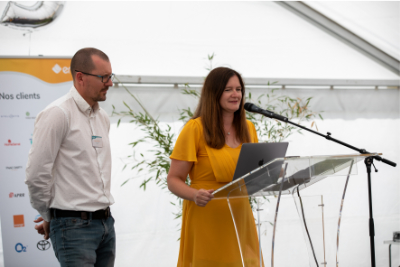 Testimonials and speeches
In addition to Séverine and Guillaume, a few other speakers took turns on stage:
Karine Boudia, Manager of Customer Satisfaction at SUEZ Eau France, once again took on her role of client ambassador to say a few words about her collaboration with ERDIL.
ERDIL's engagement was also highlighted, particularly the policy of charitable donations and sponsorship. Anne Avanzi-Gasca (Pédiatres du Monde) and Eric Cuenot (Nos Enfants d'Ailleurs) were able to present their associations, and talk about the impact of our donations.
Jérôme Scherer, member of Trivial'Compost, also mentioned his collaboration with ERDIL through Cycl'ompost, food waste collection by bicycle.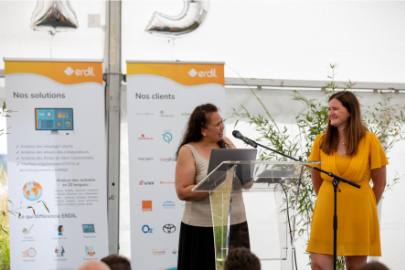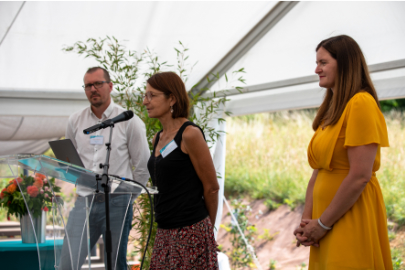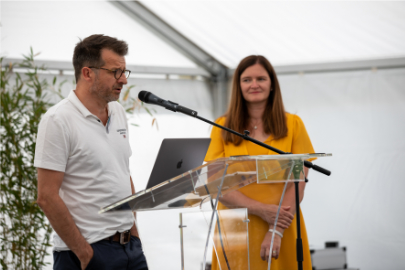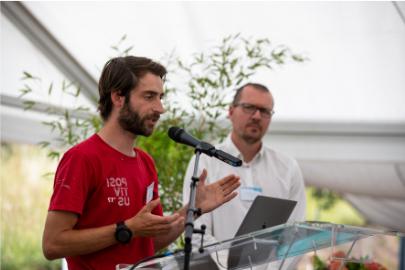 Birthday cake and a tour of the building
ERDIL's 15 years presentation ended with the video showing the building of our premises and a virtual visit of ERDIL, by 2FM Construction. A bit of a sneak preview, because all the participants were offered the opportunity to have a real visit.
Obviously, if we talk about a birthday it is impossible to forget the birthday cake, especially at ERDIL! So the day ended with all participants enjoying the delicious 15 years birthday cake prepared by our caterer for this event: la Maison Courbet.

We would like to thank every single person who contributed to the event for helping to make it a success! We invite you to join us in a few years for our 20th birthday and even sooner for our next events. 🙂