2022 Stratégie Clients salon
Digital & physical: hybridise your relation!
Location
Paris – Porte de Versailles
The #strategieC hashtag was back on social networks last week… Three years after the last edition, the salon Stratégie Clients opened once again its doors from 29 to 31 March 2022!
Successful plenary sessions
Plenary sessions led by Thierry Spencer were attended by over 1600 spectators who were attentive to the discussions regarding "hybridisation" within customer relationship. Relive some of the highlights of these conferences:
The sincerity of MACIF's collaborators
The sincerity and conviction of the values held by MACIF's collaborators were presented by Dominique RUSSO, Customer and Member Experience Director. An illustrated evidence (video in French):
ERDIL – O2 conference: Bringing fresh air within customer service with the help of verbatim analysis
This title was meant to qualify our workshop alongside our client O2. Everything was ready, presentations were fine-tuned yet we were unlucky as train issues also wanted to feature in our morning session… The organisation of actual physical events means having to deal with imponderables which we almost had forgotten. 😉
So let's have a look back at this morning, which despite being under the auspices of oxygen managed to give us a few chills… 😅
9:15 a.m.: e-mail from Simon, Customer Satisfaction & Experience Manager at O2, who informs us that his TGV is stuck and is a long way from its Parisian destination. 🚄
9:20 a.m.: emergency meeting to find a fall-back solution. 🤯
9:30 a.m.: phone call to a client of ours: Karine Boudia, Customer Satisfaction Manager at
 SUEZ Eau France, who told us the day before that she would be present at the salon. 📞
9:40 a.m.: Karine accepts our invitation to speak within short notice (and we once more would like to express our heartfelt gratitude). 🙌
10 a.m.: modification of the first slide of our presentation as well as recording Karine's express presentation. ✍️
10:10 a.m.: final sound and video adjustments in the room. 🔈
10:15 a.m. – 10:50 a.m.: a conference containing a large part of improvisation, allowing some very well-received spontaneity as well as a prominent Q&A. 🗣️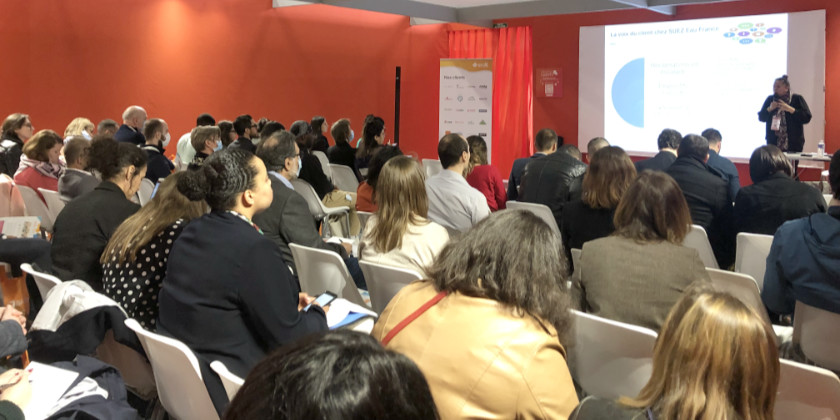 Customer Satisfaction Director at SUEZ Eau France Karine Boudia's (impromptu) intervention
Back to the stand (E36)
We were happy to welcome the usual guests of the salon: students, partners, bystanders, goodies enthusiasts (especially our Brèves de Verbatim which once more had a great success) and obviously our prospects and clients.
It was also the opportunity to personally meet some of our clients with whom we had been remotely working (through videoconference) for the past two years.
The conclusion of these three days of the Stratégie Clients salon may thus be as follows: at the time of digital-physical hybridisation, human contact remains essential.
Discover also the reports of all the salons Stratégie Clients: